__
We have returned for a 6th edition!
At the heart of the Centre des Congrès de Vierzon you will find a FreePlay area with 50 candy and dedicated arcade cabinets. There will also be a console zone to relive your childhood memories. This is one of the rare occasions in France where you can play in a Japanese arcade room, thoroughly maintained by a dedicated staff of volunteers.
And you can bet our Fierce Tournaments will be making a comeback: the HADo for Street Fighter 3.3 where you will face the best players on the planet in not only in solo but team format. You can still count on our newest installment of Facteur X ! a tournament for Super Street Fighter 2X, will you be up to the challenge? Do not forget about Windjammers with DiscMania. You now understand the high-level competition which will be at HFS6.
Finally our good ole family fun tournaments scheduled: Virtua Tennis 2, Breakers Revenge, Garou, En-Eins or even Lethal League Blaze. Anyone can sign up for these to play, compete and most importantly to have a good time.
You can now understand that you are signing up for 3 days of madness, competition and emotion.
Like every year, you can eat on-site and enjoy our house beer from our event partner.
For three days Vierzon will become a arcade and retro gaming paradise!
On-site food and drinks are not included in the price of admission!
Stream: https://www.twitch.tv/hfsplay
Replay: https://www.youtube.com/channel/UCz_6ZIEbiKFiKldzvl-pxjA/videos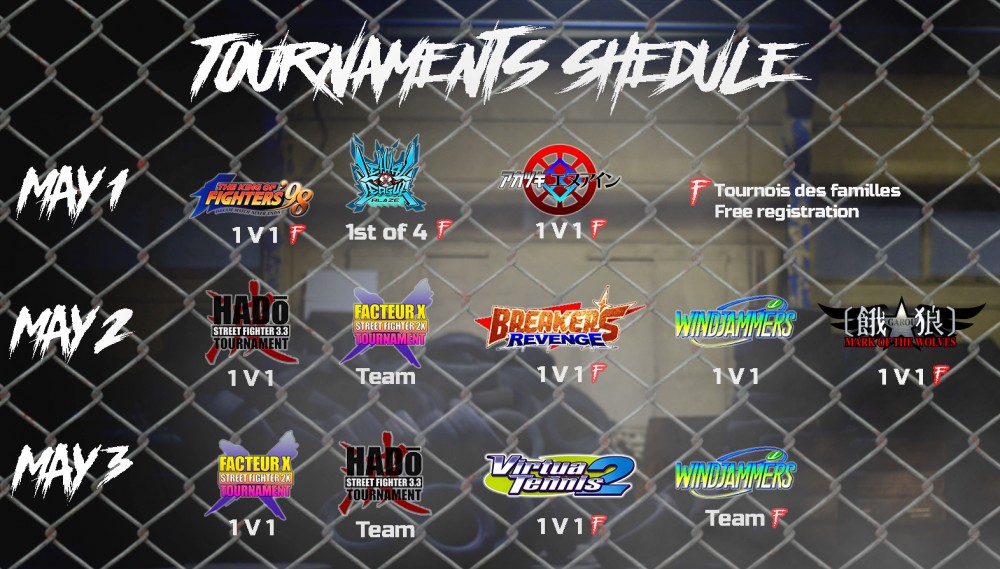 Registration for "tournois des familles" free => Le Formulaire
ATTENTION: To validate your subscription and to be able to participate in the free tournaments, you must have purchased tickets to the event for the day of the tournament!!
Competitive Tournaments:
Liste des joueurs / Player List - HFS6 All Tournaments
For all the team tournaments, only one reservation is needed for the whole team. Please remember include the names of your teammates when signing up.
Rules for the competitive tournaments: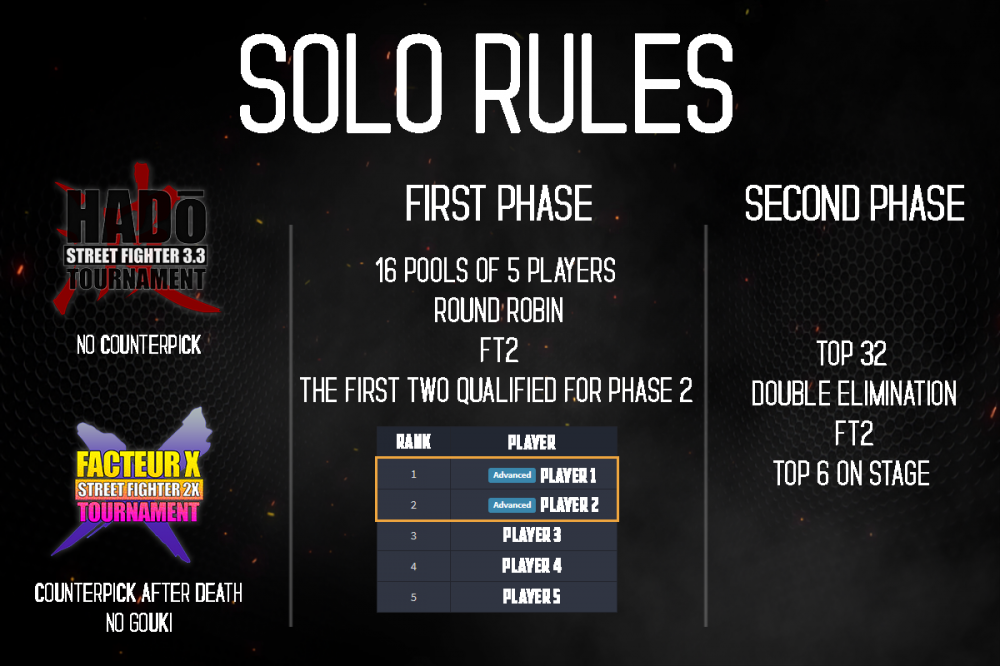 A ticket for the HFS 6 cannot be refunded or modified, except if the HFS 6 event is cancelled. It is nominative and therefore not exchangeable.
ID card can be asked to confirm your identity.
You cannot add tournaments to your initial pass.
_________________________________________________________________________________
General Info


Dates :

HFS weekend runs from May 1st to the 3rd 2020

Hours:
Friday May 1st 2020 10h-00h
Saturday May 2nd 2020 10h-2h
Sunday May 3rd 2020 10h-18h
Address:
Centre de Congrès de Vierzon
16 Rue de la Société Française, 18100 Vierzon 
Itinéraire


Directions

By car
Highway: exit at Vierzon

By carpooling
forum LINK: ICI
Mini Bus for rent living from PARIS: DRIVY

Train

By train via SNCF : to stop 'gare de Vierzon' by TGV
Take advantage of the best prices by booking them as soon as possible.

The Centre de Congrès is accessible 5 minutes by foot from the train station.

Voyages-Sncf.com


Lodging

Rent an home with gîte de france
Reserve a hotel with Trivago
Reserve a hotel with Booking
Reserve your place with airbnb
rent a discount room with Auberges De Jeunesse