**English version following the French one //////////

Avant Première du film ONBOARD Transcontinental Race
de Antonin Michaud-Soret, createur des vidéo de la course depuis 2016.
Le film sera projeté en VO (anglais et Français) avec sous-titres FRANÇAIS.
SYNOPSIS :

La TCR n'est pas une course « contre » les autres, ni contre soi-même. Elle est une course « pour » soi-même — et un tout petit peu pour les autres.
Rouler une TCR, c'est abandonner au bord d'une route des Alpes ou des Balkans, le sommeil, la lucidité, l'hygiène, toute notion de confort, et toute forme connue d'intelligence alimentaire. C'est rouler seize ou dix-huit heures par jour, dépasser la fatigue pour trouver l'épuisement, et dépasser l'épuisement pour se trouver soi-même.
Mais au-delà de l'épuisement, il y a la confiance, l'endurance, l'abandon aux fortunes de route, la patience infinie, une fraternité hilare. Il y a la capacité à prendre enfin de la distance avec ce qui vous freine et vous retient, à tout surmonter. Il y a tout ce qu'Antonin le réalisateur a recueilli à travers le regard des photographes (James Robertson et Camille Mcmillan), de Mike Hall & Anna Haslock organisateurs et de Matthieu, cap 109, cycliste qui se livre à une bataille très personnelle.
Et puis, il y a tout ce qui change la vie de tous ceux qui la roulent.
La TCR est beaucoup plus qu'une course, c'est une expérience totale. Ici filmée durant trois courses de 2016 à 2018. Onboard vous plongera dans cette expérience unique qu'est la Transcontinental Race.
Commune Image accueil la première du film qui sera accompagnée d'une ribambelle de personnes pour parler du film, de la course et vous faire découvrir cet univers unique ! Et pour ceux qui connaissent la course, ce sera l'occasion de revoir les amis et discuter entre initiés. Après les projections, les discussions pourront continuer au bar du cinéma ou vous attendra un buffet et de bonnes bières.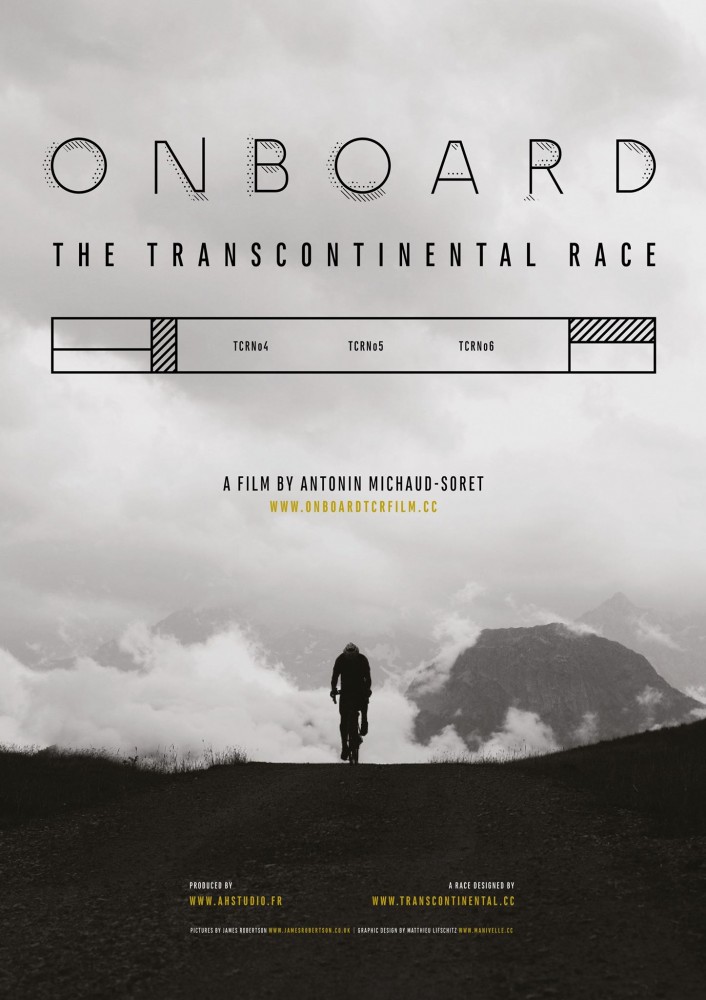 La projection commencera à 20h00 et durera 52 minutes
Il y a 150 places seulement de dispo pour la projection de 20h. Si nous sommes complet rapidement, nous ouvrirons une deuxieme projection pour  22h.
Causerie
Après la projection, nous aurons un moment de discussion possible avec le réalisateur, mais surtout avec des invités de marque comme des vétérans de la TCR mais aussi l'équipe d'organisateurs de Lost Dot.
Attendez vous à croiser :
 -Antonin Michaud-Soret : https://www.facebook.com/antonin.ahstudio
 -Matthieu Lifschitz : https://www.facebook.com/matthieulifschitz
 -Patrick Miete : https://www.facebook.com/shandorposch
 -James Robertson : https://www.instagram.com/jprobertson/
 -Anna Haslock from Lost Dot : / https://www.facebook.com/LostDot/
Nous mettrons à jour la liste des invités et intervenants ici, ou sur la page facebook du film et sur le site web du film : ( HERE & HERE )
Bar / Tapas
Après les projections, direction l'espace bar, ou vous attendrons des tapas offerts et un bar pour se désaltérer.
Il y aura aussi une exposition photographique de James Robertson avec ses meilleurs clichés tirés de ses TCR comme photographe officiel.
Fermeture à minuit !
_________________________________________________________________________________
**Héberger une Projection
Si vous êtes intéressés pour organiser une projection du film dans un cinema / magasin de vélo proche de chez vous, merci de rentrer en contact avec Antonin (le réalisateur du film) sur antonin@ahstudio.fr
////////////////////////////////////////////////////////////////////////////////////////////////////////////////////////////////
ENGLISH ///////////////////////////////////////////////////////////////////////////////////////////////////
////////////////////////////////////////////////////////////////////////////////////////////////////////////////////////////////
World première of the film ONBOARD Transcontinental Race
a film by Antonin Michaud-Soret, filmmaker of the transcontinental race since 2016.
SYNOPSIS :

"At the sharp end it is a beautifully hard bicycle race, simple in design but complex in execution."

But the TCR is rarely a race against fellow competitors, nor against oneself. It is, primarily, a race for oneself. To ride the TCR is to explore who you become at the side of a road in the Alps or the Balkans, low on sleep, lucidity, hygiene and any notion of comfort: in the saddle, rolling over rough tarmac sixteen or eighteen hours a day; finding what exists beyond fatigue and exhaustion.

Do you scratch? Get the train home? Or discover and escape from everything that has been holding you back. 

There is everything Antonin, the director, has collected; through the eyes of the photographers, James Robertson and Camille Mcmillan; Mike Hall & Anna Haslock; and Matthieu, cap 109, a cyclist who fights a very personal battle simply to complete the race.
The TCR is much more than a race, it's a complete experience. Here, filmed during 3 races from 2016 to 2018, Onboard will immerse you in the unique experience that is the Transcontinental Race.
Commune Image will host the film première, with a great panel of people to talk about the film & the race and let you discover this unique experience or share a beer with cycling friends. Discussions will continue at the bar.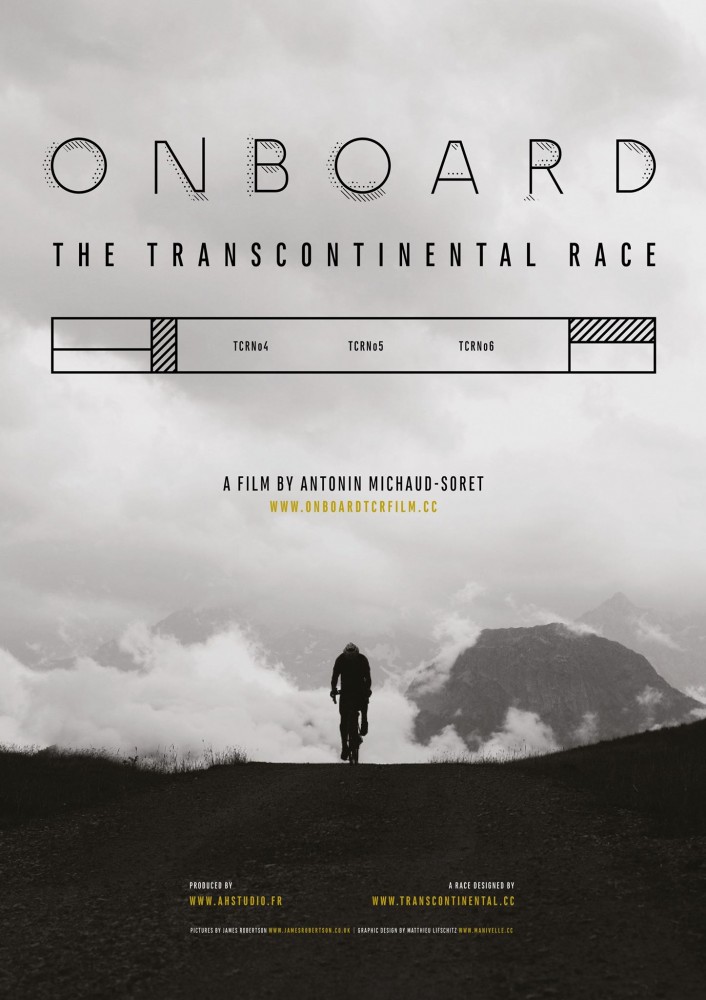 The screening of the film will start at 20h00 and will take 52 minutes.
Please that there are only 150 tickets available for the 20h00 screening. If the first session is fully booked, we'll put on sale tickets for a second session at 22h00.
Q&A
Q&A after the Screening, with the film director Antonin Michaud-Soret but also with TCR veterans and Anna from the Lost Dots Team.
Expect to meet :
 -Antonin Michaud-Soret : https://www.facebook.com/antonin.ahstudio
 -Matthieu Lifschitz : https://www.facebook.com/matthieulifschitz
 -Patrick Miete : https://www.facebook.com/shandorposch
 -James Robertson : www.instagram.com/jprobertson/
and more to come ...
We will upload the list of the guests & speakers here and on our facebook page & film website
Bar / Open Buffet
After the screening the bar will welcome you with a open buffet, beers. and an exibition of the famous TCR photographer James Robertson
Beer and music until 23h59
_________________________________________________________________________________
**Host a Screening
If you are interested in hosting a screening yourself of the film at a cinema / cafe / community space / bike shop near you, please contact Antonin ( film director of the TCR documentary ) on antonin@ahstudio.fr
Élément objet média